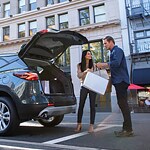 Whether you want your Chevrolet Blazer to have Amazon Alexa or integrated navigation, our team at Billy Navarre Chevrolet of Sulphur is ready to show off all of the tech features available. Consider the Blazer when you need a reliable SUV that has top technology features for you and your passengers!
Use Amazon Alexa from your Chevrolet Blazer to access your Amazon account for music, to place orders, and to check on the delivery status of your orders. You can also control the Alexa compatible devices in your home, such as turning your lights on before you arrive in your Blazer.
If you have passengers that need to stay connected, the Chevrolet Blazer is a great SUV to give your passengers access to WiFi and music playlists. No matter what type of entertainment or work they have, they should be able to keep up with everything as soon as they enter your Blazer and get on the road!