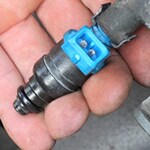 You cannot operate your vehicle without a functioning fuel system. The fuel system requires regular maintenance like any other mechanical part that enables you to drive your car or truck. At Billy Navarre Chevrolet of Sulphur, we want to provide you with some information about the fuel system before bringing your vehicle in for regular maintenance service.
The fuel system consists of the fuel pump, fuel lines, fuel injectors, a fuel pressure regulator, and a fuel filter. When these parts become clogged with chemical deposits or other harmful debris, it can cause problems in how your engine operates. Some of these problems include:
• Slow acceleration and engine response
• Rough starts
• Loss of power when towing or driving uphill
• Loss of fuel efficiency
Proper fuel system maintenance is necessary to prevent these problems. When you have your fuel system cleaned, it can extend the operational life of your engine and improve its performance.