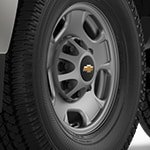 You're dedicated to working safely. That's why you need a truck that works safely, too. At Billy Navarre Chevrolet of Sulphur, we're happy to recommend the new Chevrolet Silverado 2500HD to working men and women throughout the Sulphur, LA region.
The Chevrolet Silverado 2500HD has an impressive strength capacity that allows you to transport heavy materials and work equipment without worrying about your truck breaking down and creating a safety hazard on the road. The Chevrolet Silverado 2500HD is made from seven types of steel that were specifically chosen because they're tough, durable, lightweight, and efficient.
The Chevrolet Silverado 2500HD also comes with twelve tie-downs that allow you to keep your equipment safe and secure when you're driving down the open road. And with LED cargo lighting, you can see where you're going in the dark and avoid injuring yourself when you reach into the truck bed. This impressive truck is about to dominate the job site.